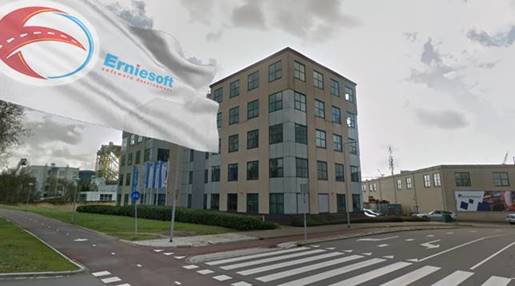 Erniesoft is an ambitious software company specialising in the automation of processes within transportation companies. With more than 20 years of experience in IT and transport, they know the industry well. They now offer their customers an advanced software system built on the latest technology. Erniesoft's owners are programmers themselves, which enables them to respond very quickly: "everything that adds value for our customers, we add to our system".
For example, Erniesoft customers can make use of Smart Logistics. This means the truck driver is informed whether it makes sense to take a certain route due to congestion at a terminal. Erniesoft was also one of the first software companies to roll out the Portbase service Hinterland Container Notification (HCN) to its customers. This prenotification portal allows customers to prenotify containers at terminals and depots via almost all hinterland modalities.
Customers don't have to do a thing: Erniesoft develops everything that adds value for customers and launches it directly within the software. A close collaboration with Portbase is therefore very important in order to be able to respond quickly and implement changes for Erniesoft's customers, because the impact of those changes is considerable: "As soon as we establish a new link, it has to work immediately".
Portbase and Erniesoft are currently working intensively together; the programmers are in direct contact with one another to facilitate rapid development for the benefit of customers. And that's a good thing, because the company is very ambitious: "We're looking to expand further in Europe, where we see a lot of opportunities for our software system".
"

We work intensively with Portbase; our programmers are in direct contact with them in order to facilitate rapid development for our customers, which is great!

"