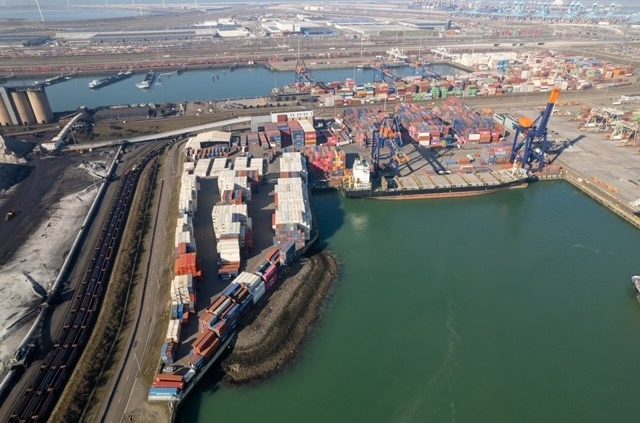 Pre-notification via Portbase simplifies calls to RCT and DCS of Kramer Group
As of Monday the 15th of August, you are able to pre-notify containers at RCT and DCS through the Portbase service HCN Road in your capacity as a road haulier. Following the pre-notification, you will automatically receive status information. Soon, the pre-notification of containers and use of the TAR code will be mandatory at RCT and DCS, you will be informed about this.
Advantages
RCT and DCS are the next locations to start making use of the Portbase service HCN Road. The advantages: 
One single window for the entire port: pre-notification via Port Community System (PCS)

 

Advance insight into container status through status requests and pre-notifications

 

Easy access to the depot via TAR code (Truck Appointment Reference)

 

No longer necessary to call the service

desk

Pre-notifying a visit: during the day, at night and at the weekend

 
TAR code and time slots
When pre-notifying at RCT and DCS, you are also requesting a time slot. The TAR code that you receive back via Portbase next gives your driver easy access to the depot. RCT and DCS are using time slots from 06:00 to 22:00 hours, for 60 trucks per hour. Click here for more information about Kramer Group's time slots.
Ted Holleman, CCO of Kramer Group:
"With the implementation of Portbase's HCN Road, Kramer is taking a new innovative step in the handling of full and empty containers through the Kramer Group locations."

Practical information
You can immediately start pre-notifying as of today. If you make use of HCN Road through a system interface*, you will find the required codes in the table below. We have also communicated these codes to your software supplier.
| | | | |
| --- | --- | --- | --- |
| Terminal | EAN-code  | Locatiecode (edifact) BICS  | Locatiecode (XML/SMDG)  |
| Rotterdam Container Terminal (RCT) | 8713755278625 | 00RCT | KRM (SMDG) |
| Kramer-Delta Container Services (DCS) | 8713755948719 | 0KRAD | OQEP |
*However, this does not apply to carriers with an API connection, they cannot yet pre-notify.
Glad to be of assistance
Should you have any questions, then Portbase Customer Service will be happy to assist you.