In the near future, Portbase will automatically migrate all participants in the current service Rail Planning to the new service Hinterland Container Notification (HCN) Rail. Intermodal operators will soon be able to start making use of the service; bulk operators will follow later this year as well.
Featuring a new, fresh look & feel, HCN Rail will initially offer you the same functionalities as Rail Planning, supplemented with some minor improvements. From the fourth quarter, Portbase next plans to expand the usage options for the rail sector in phases.
First the intermodal participants, then the bulk sector
It is the ambition of Portbase to migrate all intermodal rail operators to HCN Rail before the summer. In the third quarter, traction suppliers in the bulk sector will follow. All participants will automatically have access to the new HCN Rail web screens.
From EDI to API
To use a system link-up, HCN Rail requires a switch from EDI to API. As a transitional solution, Portbase offers current participants in Rail Planning who still work via EDI an EDI converter free of charge* for the first year. This converter automatically converts data supplied in EDI to the API format required for HCN Rail. This gives you ample time to implement the API specifications in consultation with your software supplier. These API specifications will be made available to you soon.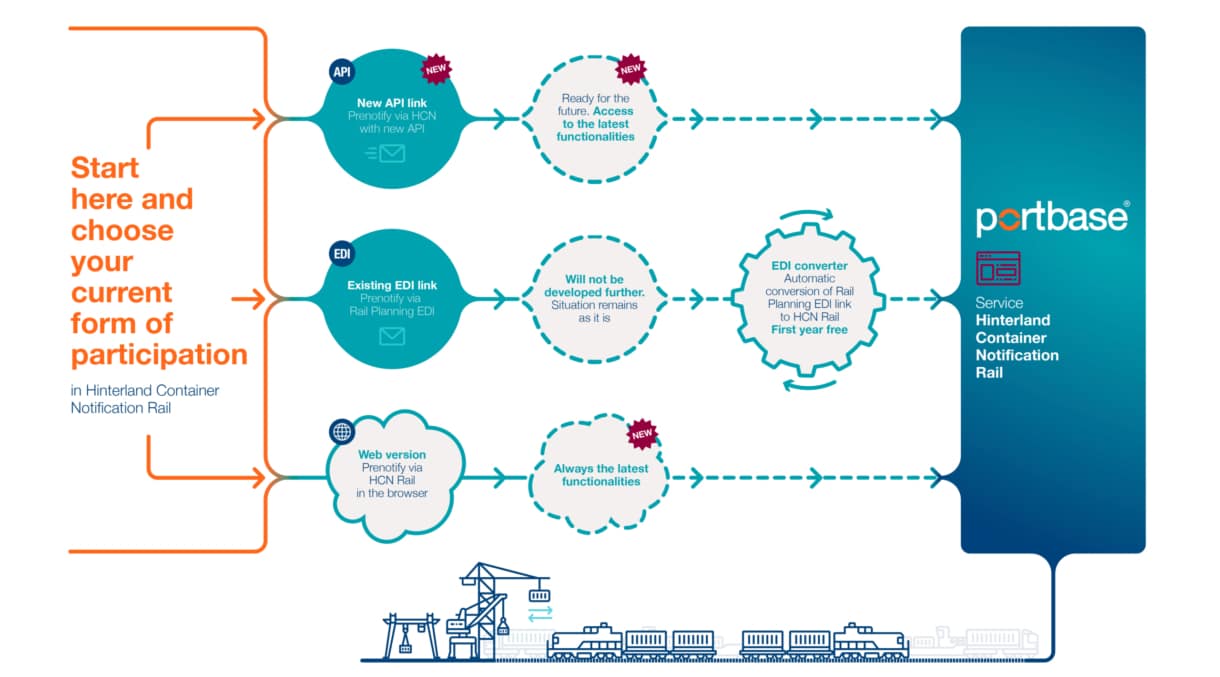 Expansion of service provision
From the fourth quarter of 2021, HCN Rail will offer the first expansions. Among other things, the planning includes the registration of trains, the specification of train compositions and updates on the terminal operation. These can only be used by means of an API link-up or the web screens.
More information
Do you have any questions? Our Business Manager Ron Martens will be happy to assist you. You can reach him on +31 (0)6 51 26 77 64 or at r.martens@portbase.com.
* The fee for the EDI converter following the free transitional phase will be announced later this year.