From 10 July, the service Vessel Notification has been expanded to include the electronic registration of outgoing and repeat voyages. As a result, you no longer need to call in under normal circumstances. You can send your registration to the Harbour Master, and to the requested service providers, instantly – with just a single press of a button. All the details are available here (only available in dutch).
The electronic registration of outgoing and repeat vessel voyages marks the next step in our efforts to simplify notifications to the Harbour Master. To that end, many previous steps have also been taken in Vessel Notification over the recent period. An overview of the recent updates:
New version with additional functions
In spring 2019, a new version of Vessel Notification – featuring various additional functions and improvements – was rolled out for all clients. These updates included:
The mobile version of Vessel Notification is now fully identical to the desktop version.
In other words, you can now make proper use of all functions via a smartphone or tablet. The URL for the service is portvisit.pcs.portbase.com.
Improved search function: you can look up a ship based on (the first three letters of) the vessel name, the call reference number or the client reference.
When you search for a vessel and filter the results by date, there is no longer a limit for quantity.
Required fields are now marked with an asterisk.
The new 'Report issue' button allows you to easily notify the Service Desk when there is a problem. A screenshot will automatically be sent along with the report.
Detailed vessel information
As of now, you can easily pull up the details for a given vessel in Vessel Notification by clicking the 'i' icon at the top left of the screen.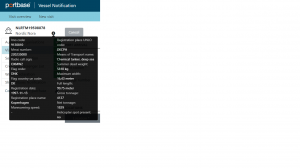 Extra checks of ETA and ETD
Due to requirements from the European SafeSeaNet, two additional bits of information in your vessel notification will now be checked automatically in the service Vessel Notification:
• The ETD for the port of call must be smaller (earlier in time) than the ETA at the subsequent port;
• The ETA at a given port of call must be smaller (earlier in time) than the ETD for that same port of call.
This prevents the times from being rejected.
Create all visits in current version Vessel notification
From now on, in order to notify cargoes to Customs in the ports below, you will create the vessel visits in the current version of Vessel Notification (2.0). It is no longer necessary to use the old version of Vessel Notification for this purpose. The vessel visits in question will be displayed in the overview of visits as well.
• Anchorage Zeeland
• Breskens
• Den Helder
• Hansweert
• Lauwersoog
• Oudeschild
• Stellendam
• Terneuzen
• Vlissingen
• West-Terschelling
Ability to send updates to the Harbour Master at any point
It's now possible to send updates on the vessel visit to the Harbour Master at any point. There is no longer any need to wait for a response from the Customs system. This means, for instance, that when there is a disruption in their system you will be able to continue working as usual.
ATAs always up to date
When the Harbour Master issued an ATA for a berth, this ATA will automatically be entered in the right field in Vessel Notification. Even if you have indicated a different ATA, or have not given one at all. This way, the information in Vessel Notification is always identical to that in the Harbour Master's HaMIS.
Overview of costs per vessel visit
Following requests from many shipbrokers and agents, in late 2018 it became possible to download a separate cost overview (confirmation of purchase) for each vessel visit in two of our services. This currently applies to the services Notification Ship's Stores and Notification Crew and Passengers. The possibility of providing a similar confirmation of purchase in other services is being explored.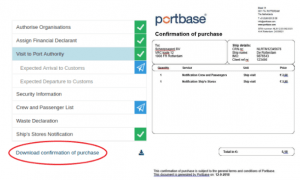 Further information
Any questions? Our Service Desk will be happy to assist you. You can contact them on
+31 (0)88 625 2525 or servicedesk@portbase.com.